BROOKLYN CENTER, MN – New Zealand mudsnails have recently been discovered in famed Black Earth Creek located in Central Wisconsin. As a Class One trout fishery and a treasured resource for anglers all across the Midwest, this finding suggests that more Stop Aquatic Hitchhikers! education and outreach needs to be done.

Diane Schauer, AIS Coordinator with Wisconsin DNR said, "These mudsnails are the clone found in Montana, not from the Great Lakes.
They did not come from nearby, they travelled."
The tiny invasive snail may not look menacing, but with few natural predators, they can reproduce by the millions and quickly alter food webs and ecosystems. In fisheries stressed from warming waters and agricultural runoff, invasive species often find their niche and quickly wreak havoc. Once invasive species have been introduced, eradication usually is not possible. Education and outreach in preventing the spread is critical and can save millions of dollars in maintenance and management.
Stop Aquatic Hitchhikers!, a national public service campaign led by an international coalition of partners, promotes consistent branding and messaging through outreach and education. Prevention efforts target outdoor recreational users with actions to CLEAN, DRAIN, and DRY all gear and equipment after use.
"It is an unfortunate discovery that should sound the alarm bell for all anglers and outdoors people to help Stop Aquatic Hitchhikers!,"
said Pat Conzemius, Wildlife Forever, Conservation Director.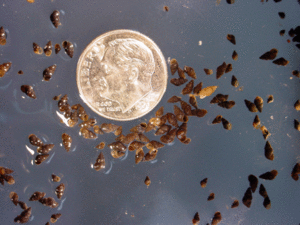 For anglers it is critical to not use felt soled waders and shoes. Invasive species like New Zealand Mudsnail and Didymo (Rock Snot) can hitchhike and stay alive for days on felt material.
Removable soles are a good option but they too can harbor invasives if you don't take the CLEAN, DRAIN and DRY precautions. Just a few simple steps can go a long way to protect our lakes and rivers.
Help protect your waters from invasive species; join the Stop Aquatic Hitchhikers! Campaign.
www.CleanDrainDry.org
and join us on
Face Book.
https://www.facebook.com/pages/Stop-Aquatic-Hitchhikers/607244815963770
About Wildlife Forever:
Wildlife Forever's mission is to conserve America's wildlife heritage through conservation education, preservation of habitat and management of fish and wildlife. As the nonprofit conservation arm of the North American Hunting Club and North American Fishing Club, Wildlife Forever represents the conservation interests of 1 million members. Wildlife Forever is the operational lead for the national Stop Aquatic Hitchhikers! campaign. In addition, Wildlife Forever also works to engage America's youth through the State-Fish Art Program. Visit
www.WildlifeForever.org
for more information.